Good morning….
How is your Christmas shopping going? I hope the answer is not: "Amazon has it totally under control." No judgement on my part, as I very much use Amazon, but I do try to actually go out and buy gifts locally as well. As I have mentioned previously, for me, Christmas is far less about the gifts purchased, but more so about the greatest "Gift" of all.
Do not think for a second, I do not enjoy unwrapping a Christmas present or opening a card, because both are very special. Like most, it started from child Mike and has continues with big child Mike. The only difference with big child Mike is, most any gift brings joy to me. As a child I remember throwing aside the socks I unwrapped, but big child Mike, would feel blessed for such a gift.
Speaking of gifts, if you are looking to give the gift of fitness or running, we are offering discounted gift certificates. Whether it be a month of personal training or a single coaching session for a runner, one of these gifts may help someone begin a life-changing path. You can go to: https://nofinishlinerunning.com/index.html for more information.
This past week my goal was to earn 400 MyZone Effort Points (MEP's). I fell short my 35 MEP's. While I failed to meet my goal, I feel good about being able to work out 3 times. Whether it be a workout goal or a running time, we often measure success by the results. While results are certainly a tangible measurement tool, they are never the measurement of ultimate success. A given week, day or even an event, are snapshots of a period of time and despite our best efforts, that snapshot is not always indicative of our abilities or preparation.

My falling short of my goal for the week was the result of doing what I enjoy most.
I often schedule my work outs in between client sessions and last Tuesday I did just that. All was working as planned, but about midway through my work out a young woman stopped in. After she finished telling Roy how cute he is, she proceeded to tell me she was there because she needs to lose weight. So, I turned off my timer and we chatted for a while. She was a delightful young woman and certainly has some challenges, which we briefly discussed.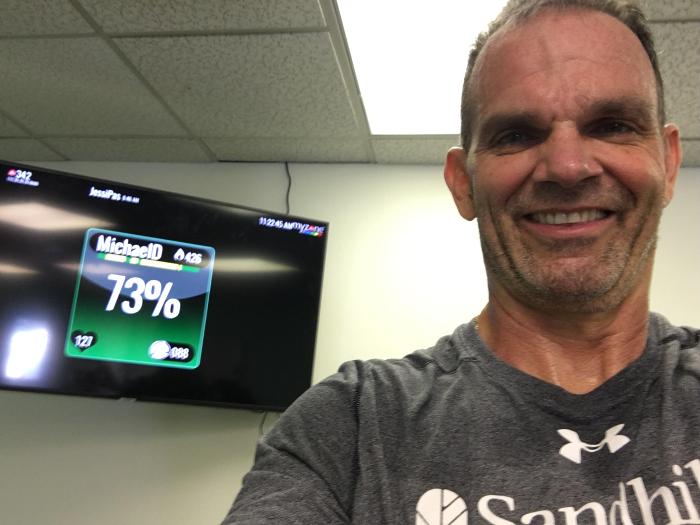 When the young woman I left, I hit play on my workout and was back at it. However, my next scheduled clients (a couple's session), showed up and my workout duration had to be abbreviated. While there was some disappointment, I will always happily trade my work out time for a chance to encourage someone else to get started.
My goal for the week ahead is once again 400 MyZone Effort Points. While I hope to get to 400, I more so hope my week is as successful as the past week.
MyZone Update
Multiple NFLF clients dawned the MZ3 heart rate straps as they trained with us this past week and without exception, they loved the real-time feedback. One couple used the feedback to taunt each other and had a lot of fun with it. I am excited at all the possibilities we will be able to utilize MyZone for and believe it will benefit everyone's work outs.
This Thursday I will be in Boston for an all day MyZone training course. I am excited to learn and maximize the capabilities of this great, great technology.
One of our clients mentioned we should raise our price ($75.00) for the MZ3 as Amazon is selling them for $88.00. I told the client our goal is not really to make money off selling the devices, but to improve our clients work out experience.
Way overtime today!
Have a great week and God Bless!
Mike