Good morning and happy September!
I believe September may be my favorite month of the year, and October a close second.
Yesterday, Doug and I were driving over to the NFLF Center and on the way, we passed a half marathon in progress, as well as numerous other runners out enjoying a beautiful Saturday morning run. The sport of running shows no signs of slowing down and as a coach, advocate and runner, I could not be more pleased. In the coming weeks I will share some insight in how runners can insure a life of healthy and enjoyable running.
Last week I received the following text from Mary Lynn Fahey, one of our clients who personal trains with us: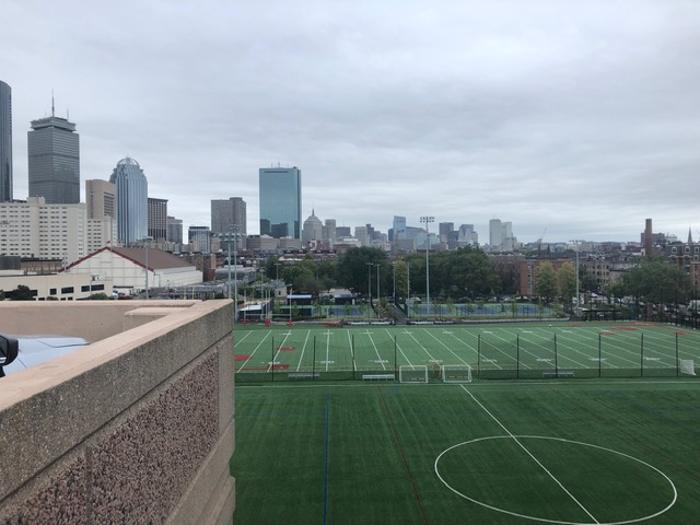 "Mike, why are you getting a picture from the top of a garage at Northeastern University? Because, I just walked up all five flights of stairs without needing the hand railing! Wearing my backpack with my laptop! Thank you so much. Praise God!"
I could write a humble narrative, or even brag about how we help our clients in meaningful ways, but this text pretty much sums up why NFLF exists. Whether we are working with runners to help them become stronger, enjoy running and minimize the potential of injury, or helping individuals improve their strength, fitness and mobility, we are singularly focused on each individual.
Mary Lynn was a client of NFLR 4 years ago as a runner, however major knee surgery ended her running and severely impeded many favorite activities and even daily functioning. When she came back to us earlier this year and discussed the goal of trying to run again, the more immediate goal changed a bit. Because of the seriousness of her knee surgery, the more apparent need was to restore strength to all the supporting muscles. Her knee will never remotely resemble its optimum capability, but improving strength in muscles such as adductors, abductors, quads and glutes, would improve her ability to do activities she once enjoyed and improve her active daily living functioning.
We have not given up on the idea of Mary Lynn running, but for now we are working to help her get as functionally strong as possible. When I feel she is safely ready to turn walking into walk/running, we will conservatively give it a go. Her initial desire to run was heartfelt, but I believe the joy she is experiencing from being able to hike and enjoy other activities, has been tremendously gratifying enough.
I hope you are having a wonderful Labor Day weekend. Enjoy the rest of it and enjoy September!
God Bless!
Mike