Good morning!
This morning I am chatting with you from the No Finish Line Fitness – Fitness Center. I have a pot of fresh brewed coffee, great uplifting music playing and a wide-open day for anyone that wants to visit. Bring your workout clothes, favorite coffee cup, or a deck of cards (I have the cribbage board). Seriously, come on down if you want to chat fitness, start your new years program or just want chat about direction. The coffee is great and free!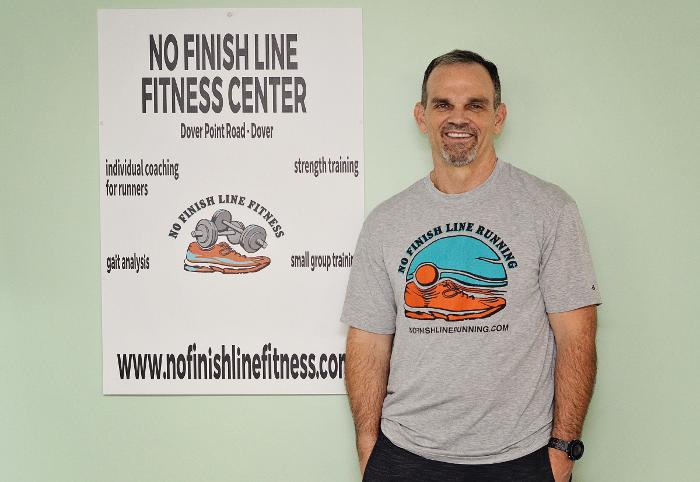 Today starts a new journey grounded in faith and a belief in what we do will make a difference in people's lives. The competition is considerable, big box gyms, new franchises branded uniquely and various other fitness gyms. How do we fit and compete? Faith and being true to our belief in what we do. I will not disparage other gyms and what they market, but I believe No Finish Line Fitness will offer the best opportunity for runners to improve their running and be better functionally fit. I also believe we will help individuals who want their overall fitness to improve their life today and long-term.
If you are a runner, we will always be the areas number one resource, offering professional coaching for individuals (we have one of the few nation-wide Level II RRCA certified running coaches), state of the art gait analysis for improved running form and efficiency, scientific based training plans and race preparation.
If you are not a runner (you should be, just kidding), we have added top rate personal training to our services. I love runners; however, I have worked a lot with helping all types of people become stronger and more mobile through strength and mobility training. This led me to seeking additional formal training and after 3 years of college courses and professional certifications, I have been compelled to remodel a mostly running business into running and functional fitness business. Some have not appreciated the change, but for me it makes a lot of sense and it is a lot of fun! Kathy and I spent many years working with runners, but we also were heavily involved in the dynamics of strength training and improved mobility. This led both of us to become better rounded in overall fitness. Kathy led the way and has become a dynamic trainer. While I followed in her footsteps (maybe not so dynamic) and became a personal trainer at multiple YMCA's. It is really exciting to use those skills to offer a unique brand of functional fitness at NFLF.
I will be here every Friday for free 30 minute strength training sessions, or free coffee. Please come by and chat about your goals (either running or improved fitness), or just take a cup of coffee to go. Any which way, we are here for you!
Because I just conducted a lengthy consultation, it is now early afternoon. I will be here this afternoon if you are in the local area. Come grab a cup of coffee to go! ??
Have a great rest of your Friday!
God Bless my friends!
Mike