Good morning
We have moved past Thanksgiving and now it is time for Christmas carols! The weekend has been great for us as we continue to set up the No Finish Line Fitness (NFLF) center. Thanks to help from NFLF's good friend Jon Corbett, we were able to get our new equipment put together and other pieces completed. I am super excited as we have added state of the art equipment while maintaining valuable space for our gait analysis set up and small group classes. This photo does not do it justice, but it will give you a good idea of the new NFLF center.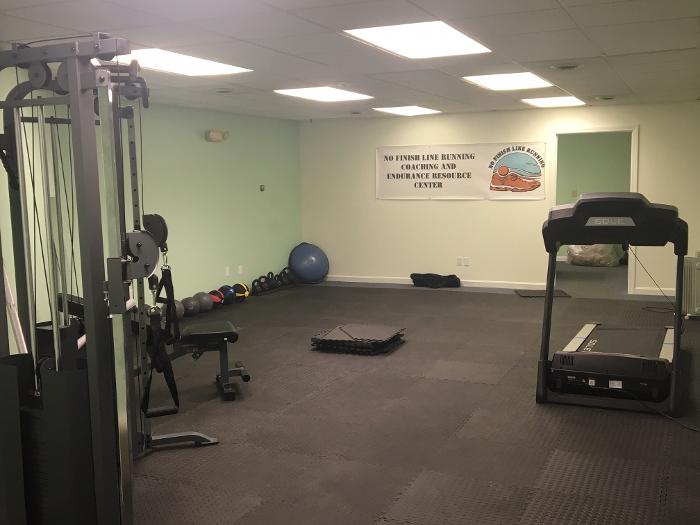 The large piece of equipment in the lower left-hand corner, is a cable system that will offer just about any strength training function imaginable. Just past that is dumbbells, kettlebells, medicine and slam balls, which are all great tools for strength training as well. Of course, on the right will be the focus of our gait analysis system. As soon as our updated logo is complete, we will roll out new branding. We are excited to bring a unique and much needed fitness facility to the Seacoast.

While we wait till mid-January to have an open house, we are pumped about offering individual personal training, group fitness classes and gait analysis beginning in December. We will even offer some great opportunities to win free entry into our small group classes, a gait analysis, personal training, or even a month or two of personal coaching for running.
Our previous facility was primarily focused on running and our ability to offer valuable strength & mobility training was minimal. Much like as we did with running, we sought out education, added certification and now we can offer the best personal training experience, and group fitness instruction. Now under one roof, we have the best personal coaching for runners, the Seacoast only professionally certified gait analyst, and strength & mobility training. While this is much of what I have always dreamed of, there are more goals, but that conversation is for another day.
We are open for business, so if you want to come by and chat, contact us at: info@nofinishlinerunning.com and we can set up a free consultation. If you would like a free 30 minute strength training orientation, you can also email us to set up a time. We offer gift certificates, and that information can be found on our website: www.nofinishlinerunning.com
Have a wonderful week and enjoy a few Christmas songs!
God Bless!
Mike