Good morning
Yesterday I worked with a great group of folks to manage the Apple Harvest Day 5K. This was our fourth year of managing the race and as always it was a lot of fun! Despite a chilly start to the day, the weather was near perfect for the Dover tradition. I am so grateful for all those who volunteered. Ask any race director what the most important thing is in a successful race and everyone would say: "The volunteers."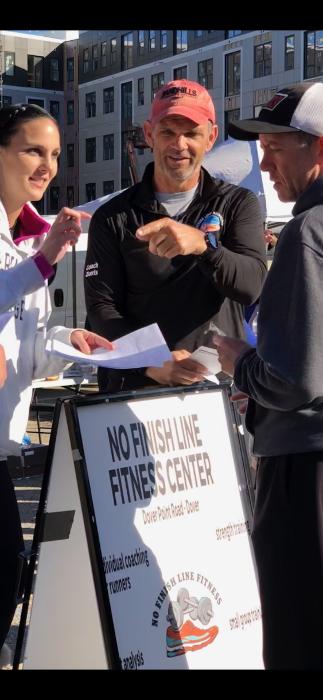 With the calendar turned to October, we are full into fall running. Beautiful foliage, many great races, and comfortable temperatures void of humidity for the most part. Despite being on the sidelines (awaiting a new hip), I enjoy seeing runners out enjoying this wonderful time of the year.
Speaking of my forthcoming hip replacement, I am already formulating my plan to return to running. I will absolutely be patient with the rehab, but as soon as I am given clearance, I want to begin a walk-run program. I am hopeful of starting in December, but realistically it may be the first of the New Year. My plan is to put together a walk-run training group to help motivate me. January is a great time to start back running, so hopefully many will join me as I get back on the road.
I hope you are planning on attending our No Finish Line Fitness open house, Wednesday October 16th. We are excited to be able to share all we are doing at 44 Dover Point Road. Many are familiar with all we offer on the running side of our business, now we want to introduce the strength and mobility side of our business. It is so cool to help people run stronger, healthier and more functionally, but to be able to help people improve their health, body composition and overall functionality, is equally as cool! Plan to come and enjoy some snacks, free passes, a nice raffle prize and learn about improving your overall fitness.
Short and sweet today! Have a great Sunday and an even better week!
God Bless!
Mike