Good morning
This past Friday I blew out 58 candles and continued the ascent to 60. Just a week prior two different people informed me that things started getting rough physically after turning 60 and 65. Does either of those two proclamations scare me? Nope!
For starters, at 58 years of age, I believe I am in the best physical condition ever. My weight is lower than it has been in a lot of years, my body fat has dropped considerably, and all my vital health numbers continue to be excellent. As important, I feel fantastic! Bragging? Maybe, but not really. Each week I have a goal of 3 running and 2 strength training days and for the most part, I have met that goal. Combine my fitness with an improving diet and minimal alcohol and all together I am healthy, fit and feeling great.
Approaching 60 and then facing 65 should not mean that the wheels must start going flat. Sure, if neglected my health, fitness and other choices, my body would surely show the affects of those choices, but instead, I will be storming into age 60 the best shape of my life. Thankfully, I am not just deciding to start, so I do not have to create a bunch of new habits, but instead I must continue the habits I have created and improve on others.
Is it possible to find yourself 60, 65 or even 70 years of age in bad shape from neglect and turn things around?
Mentally, most people give up out of acceptance and resign themselves to physical limitations for the remainder of their lives. However, while it may not be possible to turn back the hands of time completely, science and studies have proven that at any age we can improve our physical capability and muscle growth.
We work with individuals from ages 16 to 75, and each one requires a unique training plan which addresses their needs, limitations, and goals. Without a doubt the younger they are, the less age has beaten up their bodies, so 16 and 75 have different dynamics to focus on. However, we can use most of the same tools to help people of any age. TRX (suspension), Kettlebells, dumbbells, free weights, and other equipment are for all ages, but careful modification is required based on physical limitations.
The really great news for all of us, is that at any age we have the opportunity to own our fitness and invest in our future capability. Life will certainly throw challenges at us for which we have no control, but our health and capability as it pertains to our fitness is in our control. Even at age 75, anyone can improve muscle and bone strength.
Below is John who may look like he's playing dead, but in fact, he just finished doing 3 sets of 12 body weight pull-ups on the TRX. John is 75 and desires to continue being active outdoors and other doing activities that require functional strength. I am so proud of the work he puts in, and the fact that he can do a reverse triceps pull-down of 40 LBS in our gym, where only two others can do more, is a testament to his hard work and not giving into fear.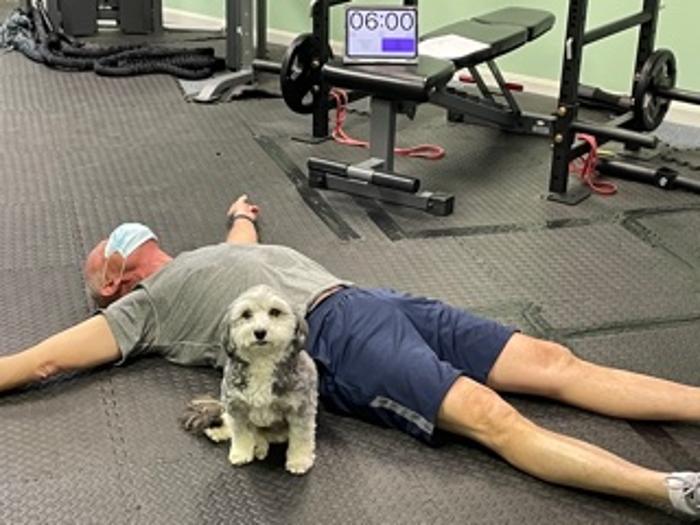 We are moving ever closer to spring and we are continuing our training for the White Mountain Milers Half Marathon. Each week I am posting 3 runs for those that might want to follow along. As I have been offering, if you would like to come by the Center and meet up for a run, reach out to me.
This week's training:
Run #1: 50 minutes @ CP
Run #2: 50 minutes @ CP
Run #3: 57 minutes @ CP
Have a great week and may God bless you!
Mike