Happy Sunday,
Yesterday I ran the James W. Foley Freedom Run 5K. Give or take a couple days, it was two years from my full hip replacement. Aside from a virtual 5K race, this was my first race since my surgery. I will admit, running has not been easy and not particularly fun these past two years. I have battled through scar tissue in my left hip, calf issues and struggled building up my cardiovascular endurance. While I have been unwilling to give up, I have battled a lack of confidence. My goal back in the beginning of the year, was to run a half marathon in November, but with running 5-miles being a struggle, I realized a half marathon might not be in my future. Honestly, I have somewhat resigned myself to distances far less than 13.1 miles.
A bleak picture for sure…
The past few weeks, I have renewed my efforts and put a lot more attention on band work and self-myofascial release (foam rolling). One of my problems were the result of my new hip rotating inward and with some daily band work, I have better control of my hip. This improvement affects not only my new hip but prevents compensation problems from the opposite leg. (My right calf was having issues because of my left hip internal rotation). I typically foam roll after running, however I started foam rolling before runs, with a focus on the scar tissue in my left hip (surgery related). This has helped immensely with the stiffness and has made my running much more comfortable.
Beyond the post hip replacement physical battles, most surprisingly I have struggled with my cardiovascular endurance. While I have never had the cardiovascular endurance of many runners, I have been able to build up to a comfortable 6 miles. For the most part, the past two years I have struggled running 3-miles. Not only has it been frustrating but doubts of ever enjoying running had started to creep in.
Thanks be to God…
Yesterday's Freedom Run was exactly what I needed. Back amongst the running community, I felt a sense of joy and motivation. My goal was to finish under 30-minutes, and I was not completely confident of that. Thankfully my running partner Doug pulled away, so I was left to settle into my own pace, and that turned out to be a 9:30 first mile. I felt comfortable and even strong, so I picked up my pace for mile 2 and was huffing some but was able to run just under a 9-minute pace. I told myself to ease up a couple times and even used others to pace myself. Mile 3 came and while being a little winded, I picked up my pace a bit more, but I knew I was in for a struggle the final half mile. Truth be told, if I were out for a run on my own, I probably would have taken a 1-minute walk break, but thanks to the other runners around me, and a few fans, I gutted out the final quarter mile. When I was a tenth of a mile out, I was able to see the race clock and it was just under 28 minutes, so I pumped my arms and pushed myself to the finish line.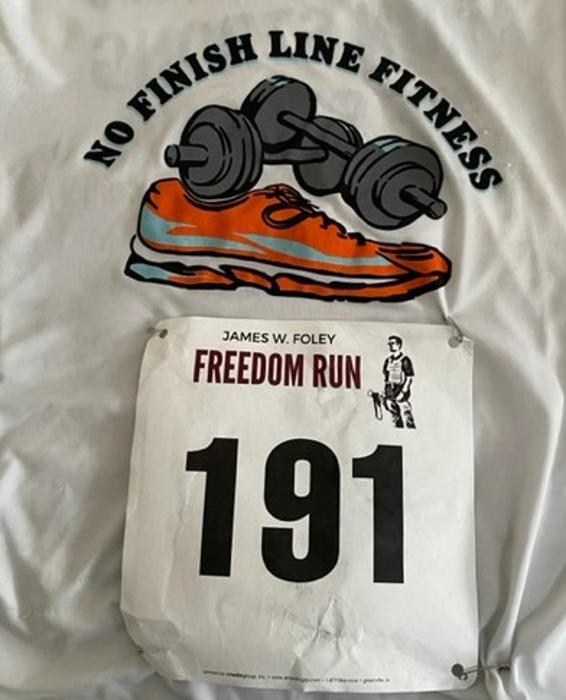 My finish time was not as important as how grateful I felt to be out there and cross the finish line. A beautiful day, and a wonderful race. I am a ways from where I would like to be, but thanks to some great running mates, hard work, a wonderful race and God, I am confident in my running future. I may even sign up for the Great Bay 5K next Saturday!

I hope you are having a wonderful weekend.
God Bless!
Mike