Good morning
With one week into February behind me, I am pumped! My goal has been to run 60 minutes before blowing out a bunch of candles and with 13 days to spare, I met my goal!! Yesterday I came home after a couple training sessions, immediately laced up my running shoes, got my Garmin and MZ3 (MyZone device) on and got out the door. It was slightly windy, but otherwise a perfect day for a run.
I knew, the best way of conquering 60 minutes would be going at an easy pace and focusing on managing 60 minutes, and not seeking some distance. After one mile my pace was 11:20, and I preceded to pick up my pace, but never under 10:00. Mile 3 brought a long hill and that challenged me considerably, but I kept my feet moving. Thankfully, mile 4 is mostly downhill, so I got some much needed recovery.
I was tanked at 55 minutes but picked up my pace and finished my final 5 running as fast as I could get my legs moving. Sixty was a wonderful feeling and a great sense of accomplishment. Sixteen months removed from hip-replacement and a few days short of blowing out 58 candles, I feel blessed to be where I am at physically. This journey has had many ups and downs and no doubt there will be more, but thanks to God, a great physical therapist, and a will to not give up, I have been able to keep moving toward my goal to run a half marathon.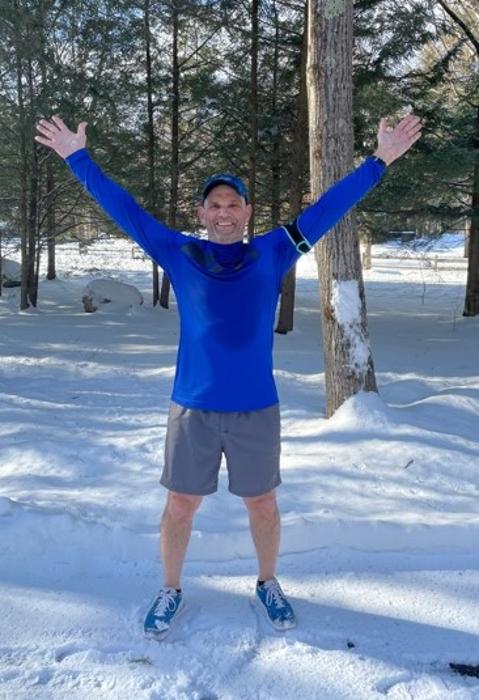 Back in November we began a two month MyZone Holiday Challenge. That Challenge proved to be the perfect way to motivate people to stay better fit through the holidays. Most every participant exceeded the goal we set for effort points (MEPS) and expressed how much fun it was. That Challenge ended at the end of December and it appeared so did fitness motivation. Nearly every participants fitness activity slowed, resulting in MEPS dropping off considerably in January. While NFLF does not work with most people who have an MZ3 (the MyZone device), we have visibility of all those who registered a belt with us. It was clear that many people (including me), have an increased motivation when challenged a bit.
While we have planned NFLF Challenges throughout 2021 (with March being the first), I decided to act quickly and set up a "Accountability (thanks Corie) Challenge" for February. No entry fee, no prizes, just a challenge to earn 1,500 MyZone Effort Points (MEPS). Quickly we had 18 people join and by week one, we now have 21 people taking on the challenge. I am ecstatic that people are back in the game and once again focusing on their fitness.
Participation in all our MyZone Challenges is of minimal cost but is a great way to stay fitness focused and have fun doing it! Please reach out to us if you would like some details. MyZone is flat out the best fitness tool on the market and NFLF continues to find ways to utilize it to help people.
Jennifer Miller (co-owner and daughter) and I continue to train for the September White Mountain Milers Half Marathon (the 25th) and NFLF will begin a training group later in the spring. Till then, I am posting a weekly training schedule that will prepare anyone who wants to join us. I run ever Saturday and if you are interested in coming to the Center and joining me, just shoot me an email. All runs are easy and can even be a walk/run. Here is this week's training:
Run (run/walk) #1: 45 minutes @ conversational pace (CP)
Run (run/walk) #2: 45 minutes @ CP
Run (run/walk) #3: 53 minutes @ CP
Have fun and keep in conversational!
God Bless and have a great week!
Mike