Good morning!
What a beautiful weekend we are enjoying here in the Northeast. Yesterday, Doug and I went out for our run at 8:30 and while the humidity was on the higher side, the temperature was comfortable.
Doug and I have been inconsistent with our running as we continue to figure out the balance of work, resistance training, and life. While running has been a casualty of our schedule, we have been getting in 2 to 3 resistance training on a weekly basis. I am hopeful we can settle in to a 2/3 (resistance/running) schedule. Doug is certainly discovering the challenges of juggling work, working out and a baby.
This past Christmas a woman purchased a gift certificate package we offered for a 3-session running improvement coaching. Her desire was to give it to her teenage grandson Donovan, who runs for the Dover high school Cross-Country team. I was happy when Donovan reached out earlier in the month to schedule his first session. Immediately I was impressed with this young man, as he was friendly and eager. The previous season as a sophomore his best finish (5K) was 18:30 and believes he will be among the top runners on this year's team.
Our running improvement package is intended to address running gait, functional resistance training and training strategy. Donovan was given both a running and strength training plan from his coach, so we have been focusing on his running gait. In our first session I was thrilled to see that his running form was not very efficient, nor explosive. The fact that he could run an 18:30 despite his poor running form, is really a coach's dream. If we can improve his running efficiency, his ability to run stronger (faster) is certainly possible.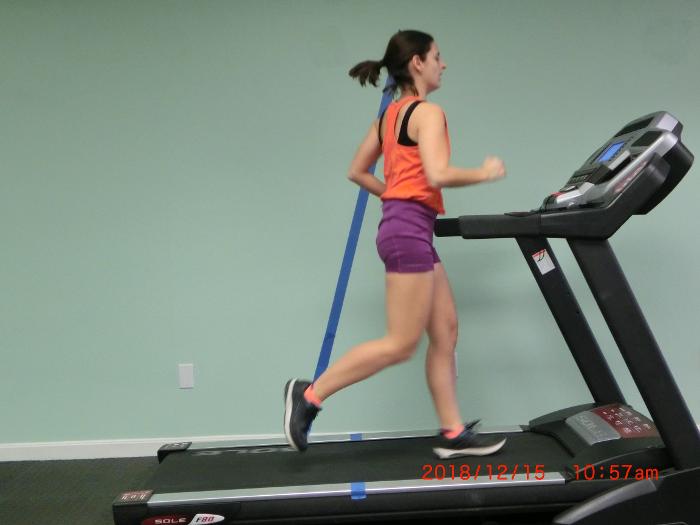 This past week Donovan was in for his second session and we started to work on changing his running gait. Donovan quickly grasped the concepts I explained as we broke down his running gait. When we moved to the actual re-training, he struggled like most people do with the awkwardness of the change. I often explain running form change like this:
If you have never swung a golf club, it takes 70 to 100 swings to learn the correct swing. If you have played golf, it takes 5,000 swings to change your swing (that muscle memory thing).
Correcting our running form is no different, but if done correctly, it does not take long to get the feel for when we are not doing it correctly.
After working on his running gait, I had Donovan run a couple more minutes on the treadmill. This time I instructed him to exaggerate all the movements we had just worked on. As he ran, I laughed at how awkward he felt! I captured another short video of this awkward running.
Donovan and I moved back to the TV to view his awkward run. On the left half of the split screen was his previous running gait from the week and on right half was the new awkward running gait. Donovan's surprise was quite obvious, and his first words were: "The right-half looks like I am a runner!"
It is safe to say; Donovan is sold on the need to change his running gait and now he knows what he needs to do. I did not give Donovan but a couple things to focus on and I have no doubt he will. I will be excited to see his progress in a couple weeks. Because he is motivated, I have no doubt he will make the necessary improvements.
As a running coach and personal trainer, I must say no amount of financial gain is as rewarding as helping people improve their running or level of fitness.
I must get along. Have a blessed week and thanks for having coffee with me!
God Bless.
Mike